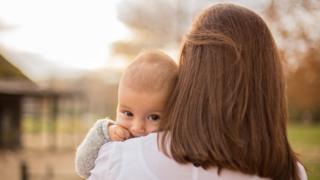 The scale of maternity discrimination is being veiled because of the use of gagging orders when women who have lost their jobs settle out of court, experts have told the Victoria Derbyshire programme.
"My boss said if I'm not going back to project, then I'd have to pay back all the maternity payment."
"Emma" – not her real identify – was working as a beautician when she became pregnant.
She did not realise at the time that her boss's petition was against the law.
She was called into the shop and told by the owner she would no longer be needed at the company.
"I didn't know what to do. I'm a single mum , no household. No-one can help me, " she tells the BBC's Victoria Derbyshire programme.
"How can I offer my lease? How can I offer my statutes? I was floored."
Emma went on to settle out of court. She signed a confidentiality arrangement thwarting her from speaking out about the occurrence – which is why she is anonymous.
'Wholly unacceptable'
Around one in nine of more than 3,000 mothers interrogated said they had been rejected, moved compulsorily redundant, or treated so badly they seemed they had to leave their chore, according to the Equality and Human Rights Commission in 2015.
This is despite the Employment Rights Act and Equality Act protecting ladies from unfair eviction because they are pregnant or on maternity leave.
Last year, the governmental forces described the findings and conclusions as "shocking" and "wholly unacceptable", but no new shields have been brought in since.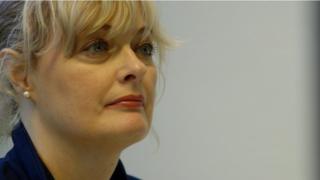 Karen Jackson, head of statute firm Didlaw and a specialist in discrimination lawsuits, says the real scale of the problem is masked by the fact that many wives sign settlement agreements containing a confidentiality clause – which stops them from speaking out.
"I've ever seen a settlement agreement that didn't have a very strict confidentiality term in it, " she says.
"I wish I could talk about some of the companies that I've dealt with and their stances to pregnancy and maternity.
"Household epithets, labels that we know, banks, insurers, utility companies, big conglomerates, retail – you name it, these companies have already been at some phase had some issues.
"If I look at the FTSE 100 there's a good chunk of firms on that register that I've behaved against around pregnancy and maternity."
'Accept lower offer'
Conservative MP Maria Miller, chair of the Women and Equalities Committee, says wives must be allowed to speak out.
"The government must be free to take such a situation very seriously indeed.
"We shouldn't have the problem obscured by confidentiality clauses, " she explains.
Kiran Daurka, employment opportunities solicitor at Leigh Day, says in 14 times she cannot recall one of her buyers who was pregnant or has only imparted birth taking her employer to a full tribunal.
She says such women are likely to settle and "accept a lower give, as they don't truly want to be in litigation during that time for psychological and financial grounds, which employers often exploit".
'Maternity discrimination'
Catherine McClennan won a maternity discrimination employment tribunal in 2015 against her employer, the TUC – which represents trade unions.
She received impairments and costs of PS21, 000.
"My job and task designation was omitted from the[ company's] directory, which was really hard to see in book to be honest with you.